Imagining the Biden Transition
No one that wants a Biden victory should rest. But it's time to imagine what happens if he wins.
The Topline
Let me be absolutely clear: this election is by no means sewn up for Joe Biden. While he holds an impressive lead in national polls, it is tighter in the swing states. Donald Trump's path to victory in 2016 did not rely on winning the popular vote- he scraped out a win in the Electoral College on razor-thin margins. He can do it again, especially if the GOP can suppress enough votes. And all manner of dirty tricks are well underway to do just that, such as this, this, this, this, this, or this.
We've written several issues of this newsletter so far concerning possible post-election chaos, violence, and disinformation. But listen, it's Friday. It's happy hour. For just a moment, allow yourself a moment to imagine a Biden victory. Maybe even a resounding one. And maybe The Atlantic's Graeme Wood is right and lazy cowards don't start civil wars.
So what comes next? If the Democrats pull off a victory, they must form a government. And the battle lines are being drawn about who will be at the table. Headlines are cropping up:
Mother Jones: If Joe Biden prevails against Donald Trump on November 3, his victory will set in motion a massive transition operation that Biden allies have been quietly building for months. Of the more than 4,000 positions a Biden administration would need to fill, the very first will likely be a chief of staff. And while Democrats are rising above their differences to push Biden over the finish line, liberal activists are already waging a behind-the-scenes fight over Biden's contenders for that post.
Politico: Joe Biden's transition team has a message for anyone publicly jockeying for a job in a potential Biden administration: Knock it off. Members of the transition team have been fuming at the recent flood of stories listing people in contention for the top spots should Biden win the presidential race next month, according to Democratic officials who have spoken to them. They warn that the efforts could backfire, knocking those participating out of contention for high-profile posts.
Bloomberg: Biden has two top candidates for secretary of state, according to seven people familiar with the campaign's thinking. They are longtime aide Antony Blinken, who served as Biden's national security adviser, and Susan Rice, the Obama-era national security adviser who was on Biden's short list for vice president. Top Pentagon and intelligence posts are likewise expected to be filled by people who have worked in those fields for years. For defense secretary, the odds-on favorite is Michele Flournoy, a former undersecretary of defense who was seen as Hillary Clinton's pick for the job if she'd won in 2016.
Politico: Left-wing House members including Reps. Alexandria Ocasio-Cortez, Katie Porter, Ayanna Pressley, Raúl Grijalva and candidate Jamaal Bowman along with 39 progressive groups signed a letter, obtained by POLITICO, arguing that no C-suite level corporate executives or corporate lobbyists ought to have Senate-confirmed positions in a Biden administration.
Presidential transitions are a massive undertaking. The Guardian reports the Biden team would employ as many as 350 people. And of course, the transition team will be building a government while largely working from home. The Biden team "has yet to set foot in the office space carved out for them in the Commerce Department, and says they have no plans to do so with the coronavirus pandemic still rampant," reports Politico. Yes, the government may be put together over Zoom.
A key goal will be putting in plans to deal with the pandemic on day one, according to Bloomberg. Biden hopes to name either Rep. Karen Bass (D-Calif.) or New Mexico Gov. Michelle Lujan Grisham (D) to become the next head of the Department of Health and Human Services. "Biden and his campaign have been toying with the notion that the public can't trust a Covid-19 vaccine approved under the Trump administration," and how to create a working national strategy to confront the virus is a key priority.
We don't want to get out over our skis. A lot can change before Election Day, and as we have noted here the outcome of the election may be unclear for many days after November 3 as mail-in ballots are counted. But look for more content here in the coming days on the possible transition, the names being floated for top positions, and the issues that would define the first days of a new administration. Keep reading for more, below this important commercial message …
---
Why Purchase a Paid Subscription to American Interregnum?
No matter who wins, the transition period up until January 20, 2021 will set the trajectory for the politics of this country for years to come.
Paid subscribers to American Interregnum will be equipped to understand and participate in the events of this crucial period. Become a paid subscriber today!
---
Driving the conversation
Here's what we're reading:
The issue of how these companies handle disinformation and political pressures has become burning hot. But for all the furor in the runup to the election, this incident may be more important for what it tells us about how the platforms will handle post-election stories and claims, and why they are still not adequately prepared to confront disinformation.
So in the competition between those who predicted a presidency of indolence and those who predicted a presidency of creeping fascism, the latter appear to be ahead by several touchdowns. And yet I think the first group might have a strong final quarter—even though the journalist was wrong about pretty much everything. When we consider how the post-election interregnum will go, we should remember that Trump had a vision of the presidency that began with extreme laziness, and that the end of his presidency could go roughly the same way.
No longer bound by judicial orders after a judge lifted the consent decree in 2018, Republicans are now free to resume poll-watching and much more, this time led by a ringmaster with a megaphone far louder than Stone's: a president who's loudly claiming, with no evidence, that the election will be rigged against him, and that the only way to unrig it is if he's declared the winner—or refuses to lose—no matter the cost to the nation. One advocate with Fair Fight, the voting-rights group formed by former Georgia gubernatorial candidate Stacy Abrams, has called this the "burn-it-down strategy."
Trump has alienated almost everyone except his shrinking base. Trump's game of alienation has made voter subtraction the existential game of the Republican Party. Subtracting voters at any cost is all that is saving the Republican Party from political death. Trump's Republican Party must kill votes in order to survive.
The Trump campaign is filled with internal blaming and pre-spinning of a potential loss, accelerating a dire mood that's driven by a daily barrage of bleak headlines, campaign and White House officials tell me. "A lot of this is the president himself," one adviser said. "You can't heal a patient who doesn't want to take the diagnosis."
Take Action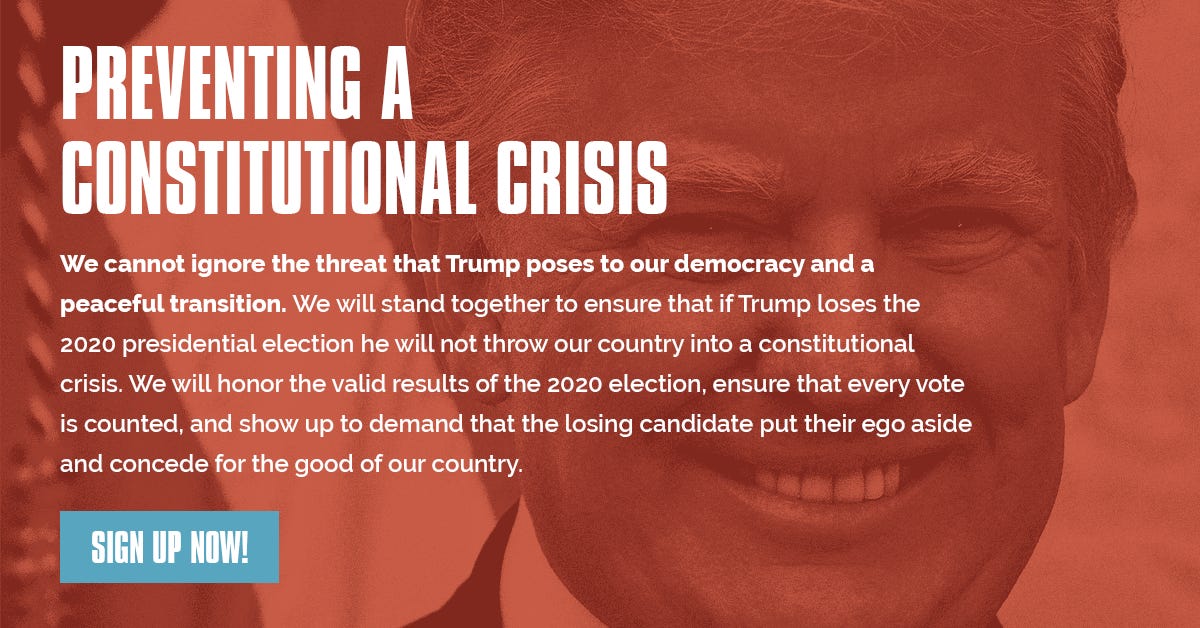 Your Moment of Levity
---
American Interregnum is a pop-up newsletter covering the issues and ideas that will define the Presidential transition period from Nov. 3, 2020, through — we hope — Jan. 21, 2021. It is written and edited by Justin Hendrix, Greg Greene, and Melissa Ryan. Have questions or comments? We love your feedback. Reply directly to this email. We read all responses and respond to most.
Did someone forward you this email? Don't forget to subscribe: