If Trump claims victory prematurely...
What will the tech platforms do? We're tracking each company's policy.
President Trump has indicated he might declare himself the election winner prematurely. Trump also refuses to commit to a peaceful transfer of power. Both of these are appalling actions, not befitting the President of the United States. 
But Trump being Trump, he's also telling us exactly what he plans to do if the race is close, or even if he loses outright: declare victory early. If reality doesn't match your declaration, just claim that the election was rigged and stolen from you. Expect many of his fellow Republican candidates to follow suit about the Presidential election and their own races. 
TV news outlets, yes even Fox News, have procedures in place for calling an election, and while they might play clips of Trump claiming victory they will almost certainly add that despite Trump's claims the election has not yet been called. The same goes for most reputable print publications, which would follow every quote with the fact that as of yet the election hasn't been called. 
On social media, where everyone is a publisher- including candidates and campaigns- the rules are less clear. Facebook and Twitter have released concrete post-election misinformation policies (though as always it remains to be seen how well they're enforced) but YouTube, Reddit, and other platforms currently have no explicit policies in place to deal with this likely scenario. 
We've put together a chart of social media company policies on candidates prematurely declaring victory for your reference, and we'll update it as we go: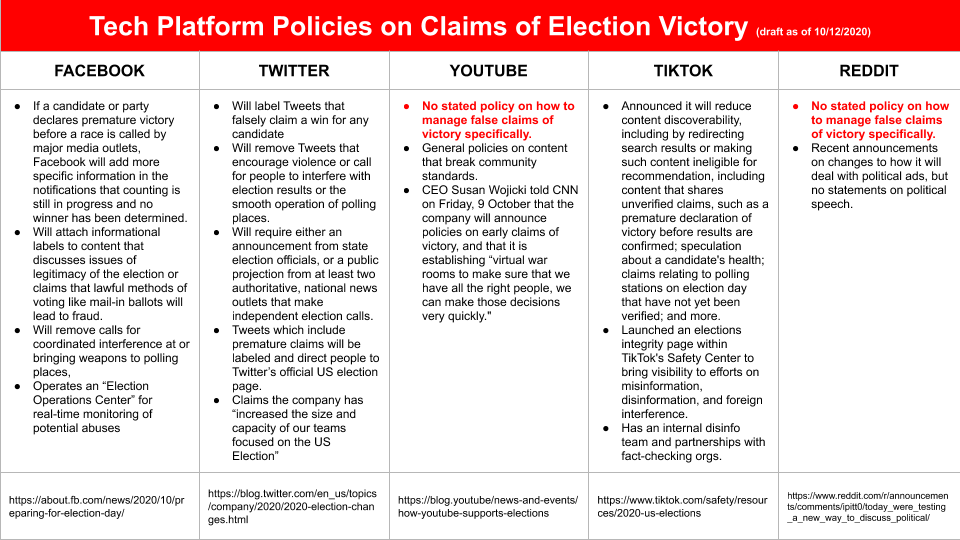 As a reminder, we won't likely know who won the presidency on Election Night. If by some chance we do get a clear win, it would almost certainly be Biden declaring victory, not Trump. Trump knows he can't win a free and fair election, which is why prematurely declaring victory and/or claiming the election was stolen from him is his campaign's strategy. Both traditional media outlets and tech platforms have a responsibility to ensure Trump can't turn his own delusions into conventional wisdom accepted as fact. We need to demand that these companies make clear exactly how they intend to handle disinformation on election day and beyond, and hold them to their promises. 
Driving the Conversation 
Microsoft has disrupted a massive hacking operation that it said could have indirectly affected election infrastructure if allowed to continue.

The company said Monday it took down the servers behind Trickbot, an enormous malware network that criminals were using to launch other cyberattacks, including a strain of highly potent ransomware.
What if in-person votes suggest President Donald Trump is winning Pennsylvania after the polls close, but the slow counting of mail ballots in Philadelphia flips the tally in favor of Democratic nominee Joe Biden in the days after? And what happens if Trump then wrongly claims the election is being stolen from him and calls on supporters to storm elections offices?

"This is the scenario that scared people the most," said one participant in the planning session, who like two others present would discuss it only on condition of anonymity so they could describe a process that wasn't open to public participation.
The California Secretary of State has received reports in recent days about possible unauthorized ballot drop boxes in Fresno, Los Angeles and Orange counties, agency spokesman Sam Mahood said Sunday evening. Reports place such boxes at local political party offices, candidate headquarters and churches.
On the campaign trail and online, President Donald Trump is pushing debunked and unsupported claims that mail-in voting leads to widespread fraud. But in court, far from the bluster of his rallies and Twitter rants, a growing number of judges have examined the evidence he's presented to back those claims and found it unconvincing.
Trailing badly in the polls and eager to change the subject from the coronavirus, Mr. Trump succeeded in compelling Secretary of State Mike Pompeo to announce that he would make public the emails even as Attorney General William P. Barr resisted pressure from the president to prosecute Democrats like former Vice President Joseph R. Biden Jr., this year's Democratic nominee.
The president has made it clear that no election result other than a landslide for him can be legitimate. Millions are falling prey to a mass delusion about a secretive, cannibalistic global cabal, facilitated by the most powerful media company in the land. The White House is lying about a calamity that has killed at least 210,000 people and reached the highest office in the land. The institution that Americans looked to as the last-resort check on runaway power is about to be turned into a partisan rubber stamp. And that's just…the last two weeks.

But let's pause there for a moment.

Authoritarianism has not yet prevailed.
Your Moment of Cute
Enjoy this delightful gif of a puppy befriending a pumpkin. You've earned it.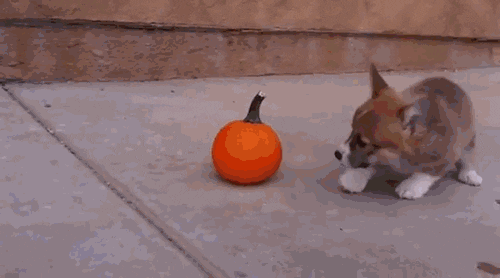 American Interregnum is a pop-up newsletter covering the Presidential transition period from November 3rd, 2020 to January 21st, 2021. It is written and edited by Justin Hendrix, Greg Greene, and Melissa Ryan. Got questions or comments? We love your feedback. Reply directly to this email. We read all responses and respond to most.