Barrett & Trump's full-court press
With efforts to rush a new justice through the Senate running at top speed, what would a speedy confirmation mean for the election?
Good evening. Voting in the 2020 presidential election ends in 20 days.
The Latest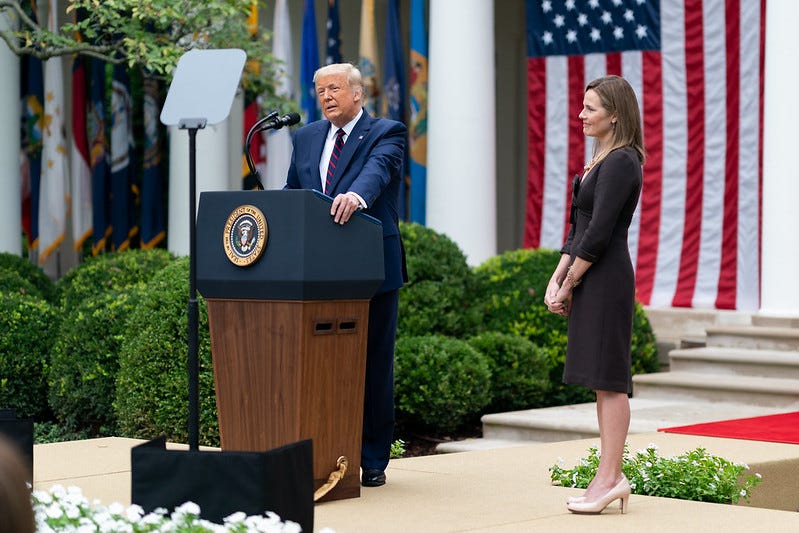 President Trump, Judge Amy Coney Barrett, and a miasma of coronavirus droplets. Image courtesy of the White House photostream on Flickr.
The news in Washington this week has been dominated by the Senate hearings on Judge Amy Coney Barrett, the Trump administration's nominee to fill the Supreme Court seat vacated by the death of Justice Ruth Bader Ginsburg. In the court where Barrett now sits, however — the federal 7th Circuit Court of Appeals, with jurisdiction over Illinois, Indiana, and Wisconsin — the fight over who gets to vote, and how, continues its inexorable grind. In recent days, that court has blocked efforts in Wisconsin and Indiana to extend deadlines for receiving absentee ballots postmarked by Election Day.   
With Trump and other Republicans urging confirmation of Barrett before Election Day, what do we know about the approach she may take to cases that arise from the election? Little when it comes to definitive answers — which is by design, because the modern-day judicial confirmation process operates to reveal as little as possible. But so far we've seen:
One would be forgiven for not calling those great omens.
Others have delved into her record — both from her brief years as a federal judge and her time before that, in the ranks of the conservative legal movement. What a few who've looked have said:
Rick Hasen, voting-rights expert at the University of California Irvine School of Law:
"If [Chief Justice John] Roberts is concerned about legitimacy, he is unlikely to want to put Barrett in the position of being the swing vote. A Barrett vote in favor of Trump — the person who rushed her onto the Court for this very purpose — would look like payback. Roberts likely would prefer siding with conservatives in a 6-3 vote so Barrett is not the fifth, decisive vote handing the election to Trump." [source]
Amanda Carpenter, former communications director for Sen. Ted Cruz:
"Barrett's nomination and the rush to install her ahead of November 3 are all about the election. Period. … Barrett will surely refuse to speculate on a potential Trump v. Biden case—but [senators should ask her] what should happen, in accordance with the Constitution, when it comes to resolving election disputes?" [source]
The Washington Post, reporting on Barrett's work with Republicans during the Florida recount in 2000:
"Barrett's work on [Bush v. Gore] serves as a reminder of how aggressively the Republican Party has sought to harness mail voting for years, in contrast to President Trump's relentless attacks on the practice. … First in her law school class at Notre Dame and a former clerk for Supreme Court Justice Antonin Scalia, Barrett fit the profile of the kind of up-and-coming conservative lawyer the Republican Party recruited to parachute into Florida to help in the hotly contested recount." [source]
Ari Berman, who covers voting rights for Mother Jones:
"Barrett's legal work in Florida shows the lengths Republicans will go to in order to elevate politics over the law when it suits their interests and to ignore evidence of fraud or improprieties when it benefits their party's vote count. … Barrett has decided few voting rights cases since then as a judge, but the opinions she has issued illustrate a hostile view toward expanding access to the ballot." [source]
Republicans on the Senate Judiciary Committee plan to vote on whether to approve her nomination this Thursday, October 15. As for whether she might get to rule on who gets to vote when, where, and how: we'll see, soon enough. 
Leading the Conversation
What You Can Do
The election protection crew that operates the 866-OUR-VOTE hotline needs volunteers, both on the ground and in person at the polls. Sign up! 
A Moment of Zen
Even in Australia, the TikTok-ers know that Republicans don't want you to vote:
See you next issue, coming on Friday.
---
American Interregnum is a pop-up newsletter covering the issues and ideas that will define the Presidential transition period from Nov. 3, 2020, through — we hope — Jan. 21, 2021. It is written and edited by Justin Hendrix, Greg Greene, and Melissa Ryan. Have questions or comments? We love your feedback. Reply directly to this email. We read all responses and respond to most. 
Did someone forward you this email? Don't forget to subscribe: