Anxiety.
Do you have sleeplessness, distraction, grinding of teeth, heartburn, or other signs of unease? You are not alone- for many, this election can't possibly come soon enough.
Good evening. Voting in the 2020 presidential election ends in four days.
The Topline
"The entire country is awaiting a biopsy result," tweeted Clara Jeffery, Editor-in-Chief of Mother Jones, on Thursday. Indeed- we know a Trump-branded tumor is deep in the marrow of the nation; the only question is whether it can be removed before it kills the patient. Now, with just more than 100 hours to go before polls close across the nation, the anxiety is building.
A survey published earlier this month from the American Psychological Association suggests most Americans are on edge. NPR reported on its findings, noting that 77% of respondents are worried about the country's future, and 71% regard this moment as the lowest in the nation's history that they can personally remember. Key to getting through it will include mentally preparing for delayed results, trying to double down on stress-reducing behaviors and techniques that work for you, avoiding endless "doomscrolling", and looking around you for signs of hope that help you see light in this moment of great uncertainty. Another great guide to coping is from Teen Vogue's Brittney McNamara. Remember, she says, that "with so much happening in the world right now—from the grief associated with the pandemic, to the mental health toll of witnessing racism, to the very real impact the coming election could have on our lives—you're certainly not alone in needing help."
One obviously anxious lot are the current and former Trump administration officials who confided in New York Times investigative reporter Ron Suskind over the past couple of weeks. This sweeping piece is based on discussions with "two dozen officials and aides, several of whom are still serving in the Trump administration." Suskind spoke to senior folks, "mainly in jobs that require Senate confirmation" who "had regular access to the president and to briefings at the highest level." It's a must-read this week (see below)- the concerns range from the President's relationship with white supremacists and extremists to how he may choose to respond to protests to the behavior of foreign adversaries that seek to sow discord.
Yikes.
One way we can work out our anxieties is by making predictions, if only for the heck of it. We want to invite you, our American Interregnum readers, to participate in a survey. Who will win? Will Democrats take the Senate? Will Donald Trump concede? Please click through and answer these few short questions- we'll publish the responses on Monday in our pre-election day edition.
Driving the Conversation
The Day After Election Day: Current and Former Trump Administration Officials Are Worried About What Might Happen on November 4th. Ron Suskind, The New York Times.
No matter how the votes split, there's an expectation among officials that Mr. Trump will claim some kind of victory on Nov. 4, even if it's a victory he claims was hijacked by fraud — just as he falsely claimed that Hillary Clinton's three million-vote lead in the popular vote was the result of millions of votes from unauthorized immigrants. This could come in conjunction with statements, supported by carefully chosen "facts," that the election was indeed "rigged," as he's long been warning.
Trump and Biden teams prep for once-outlandish election standoffs. Anita Kumar, Politico.
The possibilities are remote, but under a norm-busting administration, in a norm-busting year, with a hyperbolically divided public, the two parties are not taking any chances. Republicans and Democrats have already placed thousands of lawyers across the country to study the law in battleground states and prepare for these potential fights.
Don't expect a contested election. The cone of uncertainty has narrowed considerably. Now, the question seems to be whether we'll see a "skinny" Biden win or a landslide. Charlie Cook, National Journal.
Democrats have had their hair on fire since Election Night 2016 and that has shown no sign of abating. In my judgement, a landslide is more likely than a contested election. The House looks likely to see Republicans lose a few more seats on top of the 40 they dropped in 2018. If the over/under is 10 seats, I tend to come down on the higher side. The Senate is increasingly less a case of whether Democrats will take a majority, but how large will it be.
The Fight Against Election Day Falsehoods: Researchers are expecting a deluge of misinformation on Election Day. Lizzie O'Leary, Slate What Next TBD (podcast).
The 2016 general election changed the way we think about information online and its power to sway results. Four years later, Americans will vote amid a surge of misinformation, collected and distorted to fit political narratives. What can people and platforms do to protect the truth in this most consequential election?
In Building Economic Team, Biden Faces Tug From Left and Center. Jim Tankersley and Jeanna Smialek, New York Times.
Allies inside and outside Mr. Biden's sprawling network of informal economic advisers say there are signs that, even as Mr. Biden looks to familiar names from his White House years with President Barack Obama, his potential administration is on track to include far more economists of color, women and progressive economic thinkers than Mr. Obama's initial team, which was stocked with establishment white male economists.
Why the 2020s Could Be as Dangerous as the 1850s: Democrats could win decisively next week. But that still wouldn't neutralize minority Republican power. Ronald Brownstein, The Atlantic.
As if laying sandbags against the coming demographic wave, Republicans have erected a series of defenses that could allow them to impede their rivals—even if demographic and social change combine to more clearly stamp Democrats as the nation's majority party in the years ahead. And that could make the 2020s the most turbulent decade for America since the 1850s, when a very similar dynamic unfolded.
Here are all the steps social media made to combat misinformation. Will it be enough? Kari Paul, The Guardian.
With conspiracy theories such as QAnon flourishing, a president who regularly uses social media platforms to demonize his opponents or spread falsehoods about the election process, and a federal government that has done little to combat foreign election interference online, tech platforms' responsibility in the 2020 election process has only grown. Reeling from criticism they have in past years failed to act decisively to curb those threats, major tech platforms such as Facebook and Twitter have announced broad steps to combat misinformation ahead of the 3 November vote.
The man who created the modern presidential transition now faces an extraordinary one. Alex Thompson, Politico.
Ted Kaufman, Biden's longtime chief of staff in the Senate and head of his 2020 transition effort, likely has more control over a future Biden administration than anyone other than the Democratic presidential nominee himself. That makes him one of the most popular men in Washington now, as job seekers angle for potential posts and lobbyists try to divine his intentions.
Still feeling anxious? Try the New York Times Election Distractor.
Be Ready to Take Action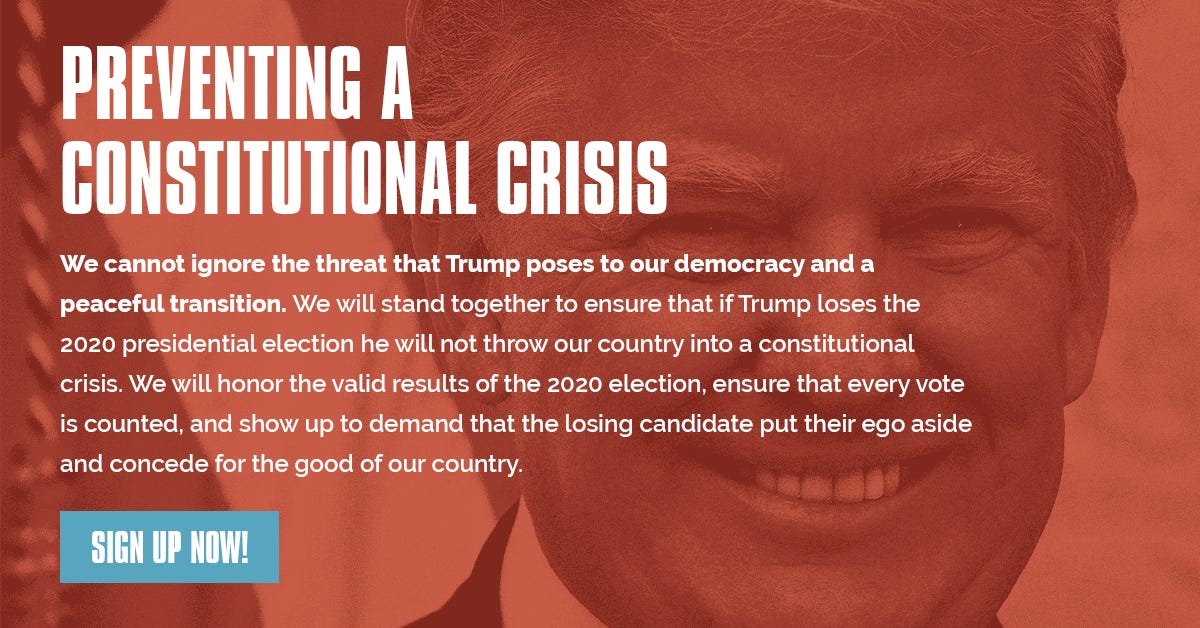 Moment of …. weird
Pee-wee Herman provides a recipe for the Halloween weekend. Seriously, click through- there is a recipe:
---
American Interregnum is a pop-up newsletter covering the issues and ideas that will define the Presidential transition period from Nov. 3, 2020, through — we hope — Jan. 21, 2021. It is written and edited by Justin Hendrix, Greg Greene, and Melissa Ryan. Have questions or comments? We love your feedback. Reply directly to this email. We read all responses and respond to most.
Did someone forward you this email? Don't forget to subscribe: